The focus of
Worx Real Estate Advisors team?
Worx Real Estate Advisors differentiates itself in the real estate sector through its One Stop Advisor approach: we are the strategic partner for the real estate of the main national and international companies.
Over the years, we have reinforced this Advisor positioning in the real estate sector, through our multidisciplinary, proactive and highly focused team, which joins efforts and works in an integrated way to guarantee what really matters: the best customer service.
We are aware of current market demands: our customers want quick, effective and integrated responses. That is why we are committed to this One Stop Advisor strategy: we develop turnkey services and solutions in all areas of real estate and at all stages of the investment cycle, so that our clients do not have to deal with different interlocutors in the management of your assets.
Without knowledge, there is no evolution
As part of this One Stop Advisor strategy, Worx was the first company in Portugal to develop and form a team totally focused on Research. This team takes advantage of our deep knowledge of the real estate market, combining the expertise of the various departments with an exhaustive research of the main parameters and trends that define and affect the sector. We want to go further: we study and analyze the market, to prepare reports, feasibility studies, and forecast trends within the real estate market, nationally and internationally.
We are aware of the challenges facing the planet, and above all with regard to real estate sustainability. We want to be part of the solution, supporting our clients in their decision-making on a more sustainable path for their real estate assets. Our team, in partnership with Átomo Capital Partners, is prepared to respond to the needs of our clients in their search for more sustainable buildings. We want to present innovative solutions that enhance buildings and make real estate transactions greener.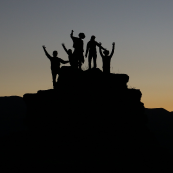 The best career decisions start with a click.
We believe in those who want to make it happen. In those who seek to work in a team and want to grow professionally with a solid foundation.