Architecture and Construction
We add value to properties by developing
integrated architectural solutions.
The approach of the Worx Architecture department involves personal involvement in each architectural project from start to finish. Through innovation and adaptation to the brand positioning and image of each organisation, spaces gain their own identity which strengthen the organisation's position in its market, optimising its communication and reflecting its values and strategies.
To meet our clients' needs, which go far beyond design and architecture projects, we created Done – Design to Build, a construction and construction management company, which allows us to guarantee the execution of turnkey projects.
We collect and analyse all the information regarding the client's needs. We create the concept, optimise deadlines and manage intermediaries, creatively and efficiently.
We develop and detail the project structured in the previous phase, in a technical project with constructive rigour and definition of the phases to be executed on site.
We carry out the work, through correct, coordinated and optimised management between all those involved.
We deliver the space with added value, cost optimisation and quality assurance in the final result.
Our work extends to areas as diverse as office buildings, retail, catering, residential, industrial and tourism, and is based on three broad approaches: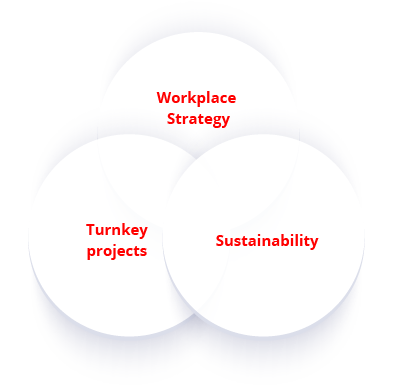 The creation of a strategic plan for an office architecture project is based on understanding the corporate culture of each company, its objectives and values, as well as its current and future needs.
The goal is to design a workplace that allows self-fulfilment, and office spaces must be designed as a place that enhances and boosts employee performance – the main assets of a company, since they are the engine of the organisation's growth.
We develop, manage and coordinate architectural and construction projects, integrating all stakeholders, from the beginning to the construction and final delivery of the space.
We implement innovative concepts supported by new trends and sustainability, creating unique architecture for each space and each client.
It is imperative that our actions move towards sustainability and the preservation of our planet, reducing our carbon footprint. The real estate sector has a long way to go in this respect, and our architecture team is prepared to design and create spaces in which sustainability is a concern.
From the choice of renewable construction materials, to the option for national raw materials, and the use of the best energy efficiency solutions, we want to be an active part in reducing the carbon footprint of the real estate sector.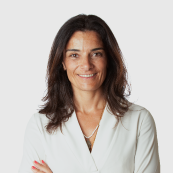 Subscribe to our newsletter
and get our latest reports first hand!​